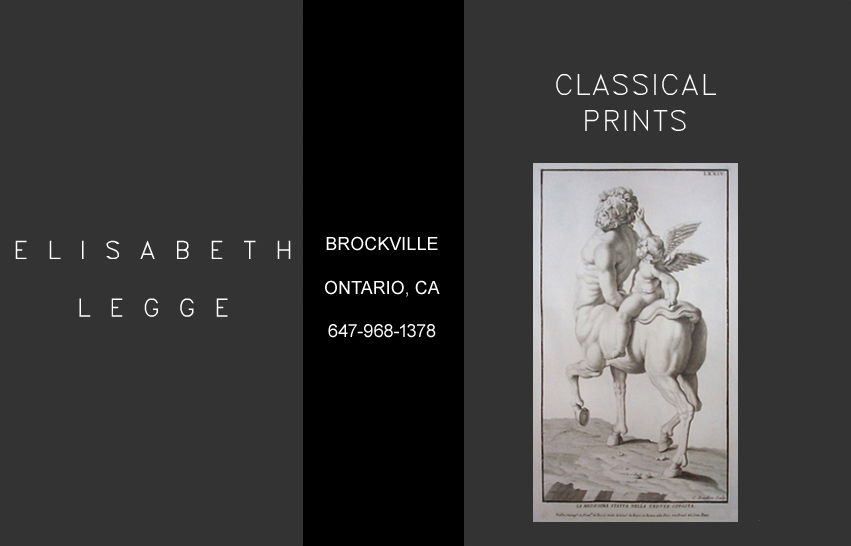 ANCIENT AND MODERN STATUES


DOMENICO DE ROSSI
THIS IS TRULY A REMARKABLE COLLECTION OF ANTIQUE
FIGURATIVES OF ANCIENT ROME.
THEY WERE ENGRAVED BY DOMENICO DE ROSSI AND
PUBLISHED IN 1704 IN A FOLIO TITLED
'RACCOLTA DI STATUE ANTICHE E MODERNE'.
THEY ARE IN PRISTINE CONDITION AND ARE EARLY PULLS
FROM THE COPPER PLATE AS THE LINES ARE CRISP AND CLEAN
AND MOUNTED TO A SIZE OF APPROX. 16" x 20".
THIS LISTING IS THE ENTIRE COLLECTION OF HIS WORKS. THE LINKS BELOW
WILL LEAD YOU TO THE VARIOUS IMAGES OF THE
ROSSI PRINTS. EACH IS PRICED AT C$550


Il Laocoonte

Belvedere Negli Orti

Constantino

Alessandro il Grande

Allessandro il Grande
SOLD

Cornucopia
SOLD

Egizzio

Marforio

Venere

Lalotta Gruppo
SOLD

Marte Gradivo
SOLD

Fauno

Apollo

SOLD

Figlioli

Baccanale

Fauno

Ercole che Strigne

David

SOLD

SOLD


SOLD

Detto il Toro

Ercole

Medesima

Apollo

Equestre di Cesare

Aiace Ucciso

Avrelio Antonino


Verita
SOLD

Medesimo Ercole

Bacco

Medesimo

Stessa
SOLD

Gladiatore Moribondo

Stessa

Bacco

Apollo & Dafne
SOLD

David

Curzio Cavalier

Pallade

Gran Pompeo

Castore e Polluce
SOLD

Settimio Severo

Lucio Vero

Tritone
SOLD

Pastore

Alessandro il Grande

St. Andrea

Giona Profeta
CLOSE THIS WINDOW
MAINTAINED BY ELISABETH LEGGE
ALL HTML AND IMAGES ON THIS SITE ARE COPYRIGHT (c) LEGGEPRINTS.COM